Posted By Vaughn on January 22, 2010
Wednesday night I was turning a big ash bowl and I started hearing a ticking sound. I stopped the lathe, and did some investigating. I'll let the pics tell the story…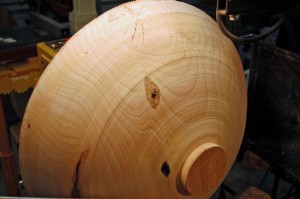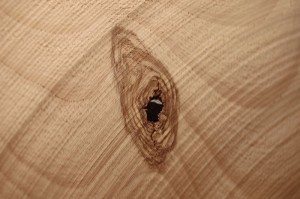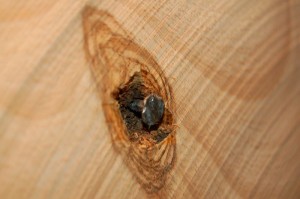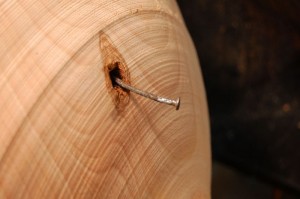 This was some of the wood I picked up a week or so ago at the local firewood lot. (I had thought it was jacaranda, but it's ash instead. Bonus. And it's about dry…10% or so moisture.) I pulled some more metal out of the blank before I started (that's a whole other post), but the head of this nail was buried a good 3 inches or more into the tree. It had been there a long time.
No bowl gouges were harmed in the making of this post.

I guess cryo treated powdered metal is harder than 30 year old nails.
BTW, the bowl ended up a bit smaller than it was when these pics were taken. See the pith near the rim in the first pic? By the time I turned that away, my 22″ bowl was down to about 17 1/2″. Ah well, it's just wood. I hear the stuff grows on trees.