Posted By Vaughn on January 2, 2010
This is a post from one of the woodturning forums I frequent. I figured it would be an interesting way to get the blog off the ground…
My friend Mark Cothren's to blame for this one. Although his 'rough block' bowls have a different look, I unabashedly took Mark's idea and ran with it.
This one is red eucalyptus with some neat curl. It's about 12″ x 7″ or so. (packed up right now, and I'm not in the mood to go dig it out.) The ends are rough cut (chainsaw and bandsaw). I shaped the bottom a bit to put it on a foot and raise the edges off the table, but I intentionally left the bottom rough. The finish is buffed Formby's Tung Oil Finish with more of Don Pencil's PL compound. (No buffing on the rough parts.)
I rather like the branch knot that ended up defining the rim of the bowl…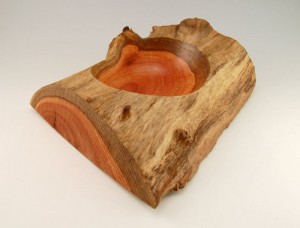 This shows some of the subtle curl revealed on the inside of the bowl…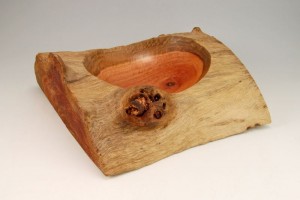 There's also the pith from a small branch near the bottom of the bowl…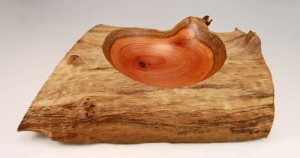 I intentionally left deep tool marks on the bottom (except inside the foot) to continue the rough vs. smooth contrast…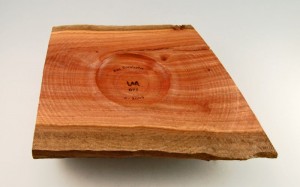 So…thanks for the inspiration Mark. I did another one in jacaranda (it's not as nice as this one), and will likely continue to try the idea when the right blanks present themselves.
Whatcha think? Comments are open for all…